Features and Benefits

E-MAX underwent extensive laboratory evaluations, including wear simulator testing.
Excellent Wear Properties
The crosslinking density of E-MAX for knee was fine-tuned to be about the same as 7 Mrad XLPE and has demonstrated very low wear in hip simulator testing: 74% less wear than conventional polyethylene.[1]
Knee Simulator Wear. Largest available size.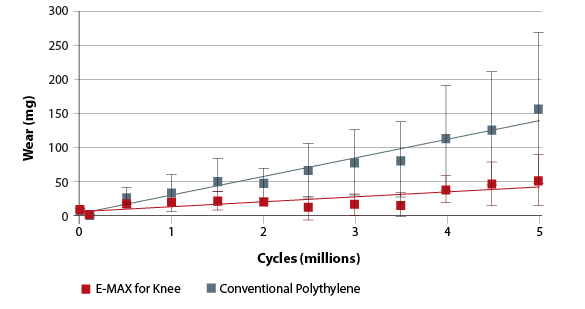 Oxidative Stability under Harsh Testing Conditions
The mechanical anneal eliminates free radicals to near the detection threshold of testing equipment (ESR). [2,3] After accelerated aging the E-MAX showed minimal change in free radical content, indicating that the Vitamin E stabilized the free radicals, preventing them from reacting with oxygen. [4] To further test oxidation resistance under extreme conditions, samples were exhaustively extracted to remove as much Vitamin E as possible, and then subjected to accelerated aging. Even under extreme conditions, no positive oxidation index was measured in E-MAX. [4]
Evenly Distributed Vitamin E
Chemical analysis demonstrated that the Vitamin E is profile is constant throughout E-MAX, indicating that it is evenly distributed throughout the material. [4] This is because vitamin E is blended with UHMWPE powder before creating the UHMWPE barstock. In contrast, materials into which the vitamin E is diffused after UHMWPE consolidation (e.g. Biomet E1), result in more concentrated levels of vitamin E near the surface.
---
University of Nebraska Medical Center. An in-vitro wear durability study of the A200 CR Knee System: two sizes and two bearing materials.Test report dated November 11, 2011. On file with KYOCERA Medical Technologies, Inc.
Materials Characterization testing. Test report TP0322. On file with KYOCERA Medical Technologies, Inc.
Bhattacharyya S, Matrisciano L, Spiegelberg S, Harris W, Muratoglu O. Mechanical elimination of residual free radicals in an irradiated UHMWPE rod: advantages over melting. 50th annual meeting of the orthopaedic research society. 2004:1474.
Cambridge Polymer Group. Analysis of CIMA and E-CIMA Material. Test report dated July 15, 2011. On file with KYOCERA Medical Technologies, Inc.