Proximal-loading and bone-conserving, with streamlined surgical instrumentation.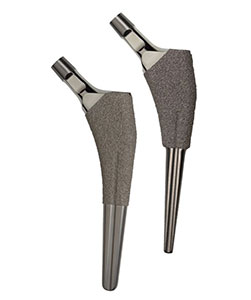 The A400 Tapered Cementless Hip System is based on a proven design concept that has over 25 years of excellent long-term clinical results. [1]
This proximal loading, bone conserving design with streamlined surgical instrumentation has become the standard in cementless hip arthroplasty. The A400 includes additional options to help surgeons address patient specific anatomy, including:
Reduced distal taper option for proximal/distal femur mismatch
Standard and lateralized offset
Anteverted neck option
5 femoral head offsets
---
McLaughlin, J.R. and Lee, K.R. Total Hip Arthroplasty with and Uncemented Tapered Femoral Component. Journal of Bone and Joint Surgery. 6(90): 1290-6, 2008.