Acetabular Inserts

MAX Highly Crosslinked Polyethylene for hip bearings has excellent wear resistance while preserving strength through an innovative annealing process that does not require melting.
Highly Crosslinked for Low Wear
In hip simulator testing, MAX demonstrated 95% less wear than conventional polyethylene. [1]
Mechanically Annealed
During radiation crosslinking of polyethylene, free radicals are introduced. To remove the free radicals, MAX includes a mechanical annealing process in which the material is warmed and then compressed. This mobilizes the molecular strands of polyethylene, allowing the free radicals to combine into additional crosslinks.
Just like melt-annealing, mechanical annealing process eliminates free radicals near the detection level.[2,3]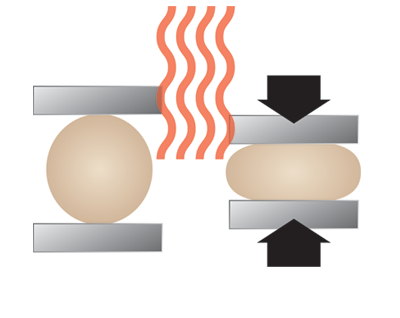 ---
University of Nebraska Medical Center. Characterization of CIMA and E-CIMA UHMWPE as a bearing against CoCr femoral hip components: A hip simulation study. Test report dated July 15, 2011. On file with KYOCERA Medical Technologies, Inc.
Materials Characterization testing. Test report TP0322. On file with KYOCERA Medical Technologies, Inc.
Bhattacharyya S, Matrisciano L, Spiegelberg S, Harris W, Muratoglu O. Mechanical elimination of residual free radicals in an irradiated UHMWPE rod: advantages over melting. 50th annual meeting of the orthopaedic research society. 2004:1474.