MAX underwent extensive laboratory evaluations, including wear simulator testing.
Excellent wear properties
MAX demonstrated 95% less wear than conventional polyethylene. [1]
Stability with large diameter heads
Larger diameter heads have been shown to lead to improved range of motion and lower dislocation rates. [2,3,4,5] MAX acetabular inserts are available for use with heads up to 40mm in diameter.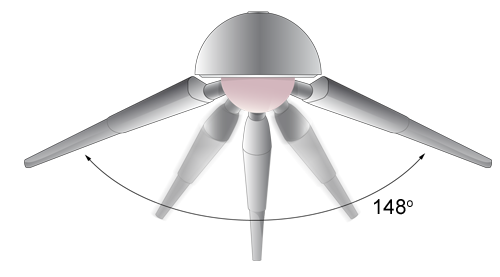 ---
University of Nebraska Medical Center. Characterization of CIMA and E-CIMA UHMWPE as a bearing against CoCr femoral hip components: A hip simulation study. Test report dated July 15, 2011. On file with KYOCERA Medical Technologies, Inc.
Peters CL, McPherson E, Jackson JD, Erickson JA. Reduction in early dislocation rate with large-diameter femoral heads in primary total hip arthroplasty. J Arthroplasty 2007;22(6 Suppl 2):140-4.
Beaule, Schmalzried, Udomkiat, Amstutz. Jumbo Femoral Head for the Treatment of Recurrent Dislocation Following Total Hip Replacement. JBJS(Am) 2002; 84(2): 256-63, 2002.
Callaghan JJ, Heithoff BE, Goetz DD, Sullivan PM, Pedersen DR, Johnston RC Prevention of dislocation after hip arthroplasty: lessons from long-term followup. Clin Orthop Relat Res 2001; 393:157-62.
Van Sikes C, Lai LP, Schreider M, Mont MA, Jinnah RH, Seyler TM. Instability after total hip arthroplasty: treatment with large heads vs constrained liners. J Arthroplasty 2008; 23(7): 59-63.