The S128 ALIF Cage is a zero profile Stand-alone Anterior Cage designed for ease of use and patient safety. Some text highlighting a feature.
Locking Cover Plate
A quarter turn is all that it takes to lock all four screws. And with tactile and visual confirmations, you can be confident the system is locked before you close the wound.

Screw Angles
Our screw angles are set to provide maximum stability while minimizing risk to surrounding tissue and vascular structures.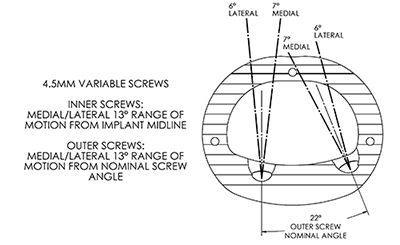 Graft Chamber
Our cage is designed for strength without the need for braces or crossbars through the middle of the cage. This allows for an extra large graft chamber to maximize the potential for a solid, rapid fusion.