Tesera P features our revolutionary Tesera Trabecular Technology in posterior lumbar cage form.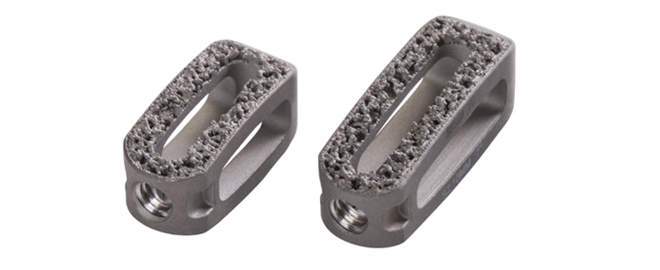 Tesera P Posterior Lumbar Interbody Fusion (PLIF) System
with Tesera Trabecular Technology
Tesera Trabecular Technology
Optimal environment for bone IN-GROWTH and ON-GROWTH
3D-printed Titanium-alloy (Ti6Al4V)
Truly-porous trabecular structure
Random, interconnected pores (500 micron average pore size)
68% Average Porosit
Hydroxyapetite-blasted, for micro-surface roughness
Tesera P Sizes
Available in lengths of 22mm, 25mm and 27mm X 9mm width
Available in heights from 7mm – 16mm
Convex 7 ̊ lordotic profile
Bulleted, self-distracting nose geometry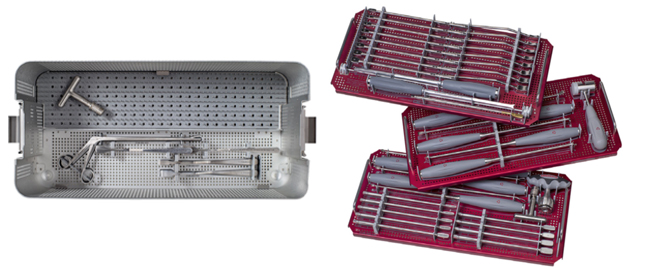 Instruments
Straight Shavers available from 6mm – 14mm (1mm increments)
Curved and Straight Trials available from 7mm – 14mm (1mm increments)
Threaded Inserters
Tamps, disc prep and nerve retractors included
---
About Tesera Trabecular Technology (T3)…
Tesera implants feature porous titanium surfaces which create the optimal environment for bone on-growth and in-growth. (Figure 1) Independent study of the Tesera structure proves rapid and complete bone ingrowth at 12 weeks, without press-fit or biologics. (Figure 2)
Tesera implants combine revolutionary manufacturing technology, advanced material science and bio-analogous design into cutting-edge implants that push the expectations of how spinal implants interact with the body.

Figure 1: SEM image of the outer surface of the Tesera porous structure.[1]


Figure 2: Pictured above is a 75μm section view from a weight-bearing Ovine study showing bone ingrowth into the Tesera trabecular structure at 12 weeks.[2] Black=Titanium, Pink=Bone, Blue=Fibrous Tissue and White=Pore Space
---
Data on file with KYOCERA Medical Technologies, Inc. SEM Evaluation. Test Report K13047307-1.
Surgeries were performed at IMDS Discovery Research (Logan, Utah); processing and analysis of the specimens was conducted by the Bone and Joint Research Laboratory (Salt Lake City, Utah). Data on file with KYOCERA Medical Technologies, Inc.
*The Ovine study data shown is representative of KYOCERA Medical Technologies' Electron Beam additively manufactured porous structure. Tesera P/T/ST implants are manufactured using a laser sintering additively manufactured porous structure, but are representative of the Electron Beam porous structure.