The Tesera ALIF Cage features an ideal trabecular structure for bone in-growth, providing excellent long-term fixation.
Truly porous
Using additive manufacturing, the entire cage is "grown" layer upon layer, in much the same fashion as traditional rapid prototyping, but instead of plastic, we use titanium alloy powder. The final product is a solid structure in the middle, transitioning to a porous structure at the surfaces.
True porous surfaces (1.15mm thickness)
Solid superstructure below the porous layer
Made from Titanium (Ti6Al4V) powder
Melted into a solid form by electron beam laser
Locking Cover Plate
A quarter turn is all that it takes to lock all four screws. And with tactile and visual confirmations, you can be confident the system is locked before you close the wound.

Screw Angles
Our screw angles are set to provide maximum stability while minimizing risk to surrounding tissue and vascular structures.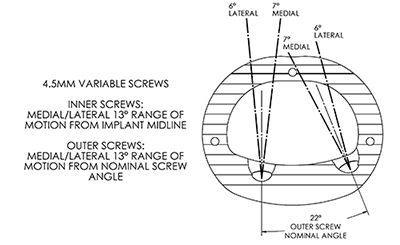 Graft Chamber
Our cage is designed for strength without the need for braces or crossbars through the middle of the cage. This allows for an extra large graft chamber to maximize the potential for a solid, rapid fusion.